Manchester Camerata & Prof. Simon Keefe
Thursday 13 May 2021 at 8:00 pm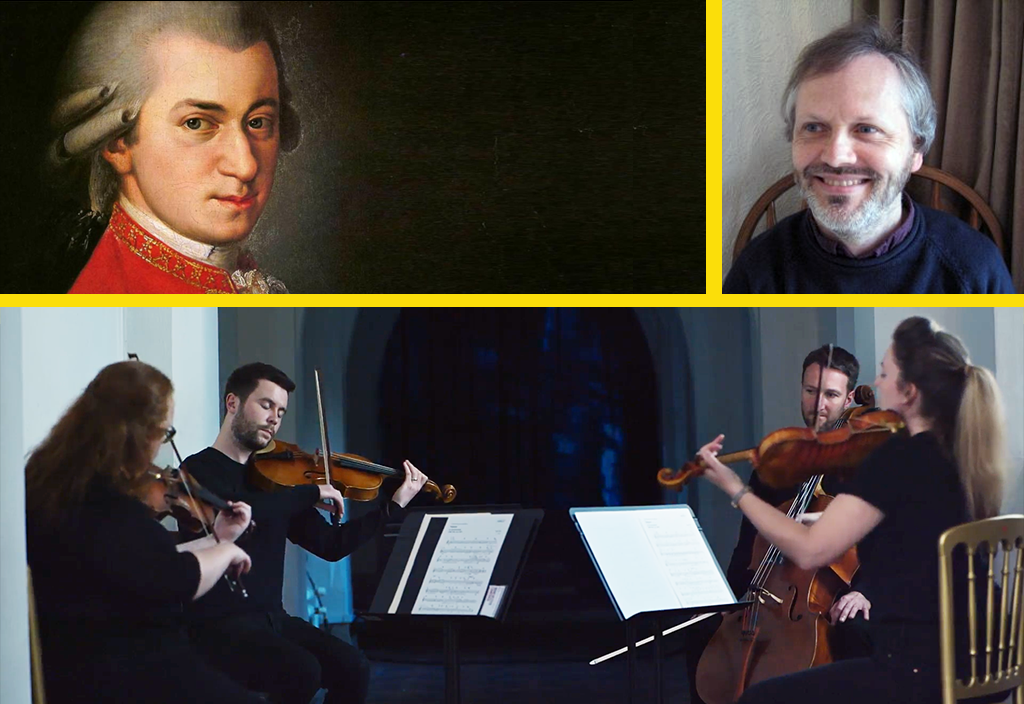 Manchester Camerata & Professor Simon Keefe: Rethinking Mozart's 'Haydn' Quartets
We are extremely excited to present our first collaborative event – Rethinking Mozart's 'Haydn' Quartets – with the incredible Manchester Camerata, and what a way to start!
This exclusive live stream will delve into the creative workings of some of Mozart's most famous pieces, illustrating how the quartets developed and changed as the great composer perfected them. Professor Simon Keefe, Mozart expert and author of Mozart in Vienna: The Final Decade (2017)  will introduce and discuss this fascinating process, with a string quartet from Manchester Camerata to illustrate it live in our atmospheric Drama Studio venue. This unique melding of music and history will be followed with a full performance of two of the quartets.
Manchester Camerata is an ensemble and charity working and performing in Manchester and worldwide since 1972. Be it opening Glastonbury festival in front of 40,000 people or working intimately in care homes with people living with dementia, Manchester Camerata is at the forefront of exploring the transformative and connecting nature of music. 
Their stunning live performances are renowned for both mesmerising beauty and talent, and for a complete disregard of traditional creative boundaries. From an orchestral rave performed in isolation to over one million people during the Covid-19 pandemic, to touring Mozart in the most beautifully intimate concert halls, or re-imagining classical music with electronic producers at the top of their game, Manchester Camerata is an incredible force for creative good. Led by visionary Music Director, Gábor Takács-Nagy and collaborating with diverse international artists, from New Order to Martha Argerich to Aziz Ibrahim to Lewis Capaldi.
Professor Simon Keefe is the James Rossiter Hoyle Professor of Music at The University of Sheffield. His primary research and teaching area is late 18th-century music, especially Mozart, but also with research and teaching interests in music reception and biography, 20th-century French popular song, Wagner, and the concerto genre. He has published four books as author and eight as editor since 2001, including a 700-page musical biography, Mozart in Vienna: The Final Decade (Cambridge University Press, 2017).
This event will be live-streamed using our state-of-the-art video and sound equipment from the Drama Studio.
We are pleased to be streaming this event as a live performance starting at 8pm. After the concert and a short pause, ticket holders will be able to stream this event again from the same link at their leisure for at least 24 hours.
Together with other university concert programmes across the country we are bringing our streamed events to a wider audience through UCAN UK Streaming. Our partner venues are Turner Sims (Southampton), Lakeside Arts (University of Nottingham) and Lancaster Arts.
Date: Thursday 13 May 2021

Time: 8:00 pm

Price: £5 / £7 / £10 Streaming tickets are priced at £5 per streaming household, and we have added two supporter tiers for those who want to pay more to support artists and keep music happening as we come out of the pandemic.

Buy tickets