Ella Taylor
Tuesday 06 April 2021 at 7:30 pm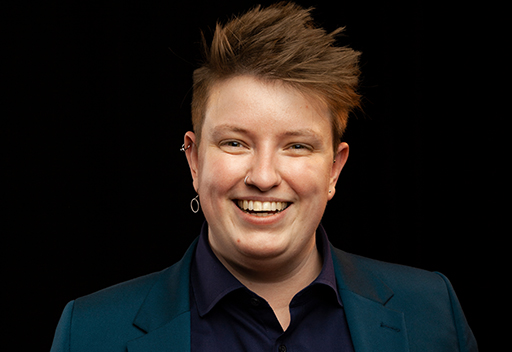 Ella Taylor is a soprano with a passion for performing contemporary music and works by women and gender non-conforming artists. 
Their programme for this concert is a finely curated balance: contemporary works from Trans artists and composers, including J.N Redelinghuy's composition based on notebook fragments by Jean Michel Basquiat; a new piece from CENMAS' Professor Dorothy Ker; and two classical works from Ravel and Schumann.
Join us for a mesmerising performance by one of the UK's most exciting rising young sopranos. 
Ella was a Young Artist with the National Opera Studio for the 2019/20 season, as well as a graduate of the Royal Academy of Music, where they gained Distinction in MA Performance, a DipRAM for an outstanding final recital, and the Charles Norman Prize. 
On the concert and oratorio stage, Ella is in demand as a soloist. Notable highlights include Górecki's Symphony of Sorrowful Songs at Sheffield Cathedral, Schönberg's Pierrot Lunaire at the Royal Academy of Music, and a performance on BBC Radio 3 of Oliver Knussen's Trumpets at the British Composer Awards. Their repertoire includes many of the major oratorios by Bach, Handel, Haydn and Mozart.
Ella is a keen collaborator and recitalist, making a dedicated effort to work with and perform works by people underrepresented in classical music. 
Tom Crathorne is a collaborative pianist and composer, and enjoys working in close partnerships with other performers. At the piano, he has a penchant for accompanying vocal and instrumental contemporary music, particularly that which breaks from the traditional performance conventions of Western art music, and also frequently plays for theatrical productions. Some notable engagements include Songs from the Seven Hills at Sheffield's Crucible Theatre (Assistant MD), Bach's Mass in B minor with the English Touring Opera (Répétiteur) and Departures: A Song Cycle at London's Pleasance Theatre (Assistant MD). Tom is also a keen composer, writing music that often focuses on duration and language, and is interested in exploring the theatrical and physical potential of the performer, as well as the listener's perceptions of physical space inherent in music. He has had works performed largely over the North of England, most recently collaborating with poet Kathleen Swann for a commission by Leeds Lieder Festival.
This concert will be live-streamed by our state-of-the-art video and sound equipment from the Drama Studio.
Programme:
Ellen Sargen and CN Lester – Candidate 3
Ravel – Cinq mélodies populaires grecques
Dorothy Ker – An Ode in Connection with my Body
J.N Redelinghuys and Jean Michel Basquiat – SAMO SH*T SONGS
Schumann – Dichterliebe
We are pleased to be streaming this event as a live performance starting at 7.30pm. After the concert and a short pause, ticket holders will be able to stream this event again from the same link at their leisure for at least 24 hours.
Can't wait for this concert? Why don't you check out a recent performance from Ella for #OperaInLockdown here.
Date: Tuesday 06 April 2021

Time: 7:30 pm

Price: £5 / £7 / £10 Streaming tickets are priced at £5 per streaming household, and we have added two supporter tiers for those who want to pay more to support artists and keep music happening as we come out of the pandemic.

Buy tickets