Åkervinda
Thursday 05 March 2020 at 7:30 pm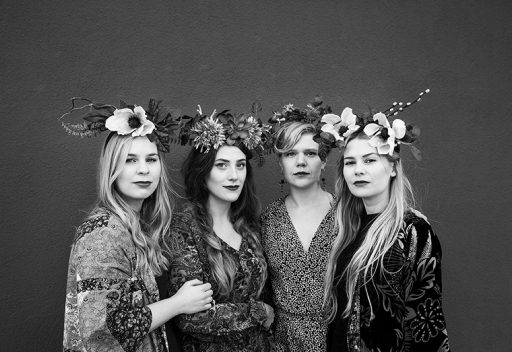 Iris, Lise, Linda and Agnes, the four singers of Åkervinda, take pride in their original and modern interpretation of the traditional folksongs of Scandinavia. Jazz singers at heart, the young women of Åkervinda share a deep love of folk music. Through improvisation, the group gives new life to traditional folk songs and stories of women throughout the ages.
The group's name, Åkervinda, is inspired by a Swedish wildflower whose roots spread far and wide like rivers under the ground. Like the flower, gracefully entwining melodies, rock solid groove and ever intriguing harmonies will take root in your mind.
In 2014 they released their debut album Kära Mor (Dear Mother) and have since toured Sweden, Denmark, America and Canada. Åkervinda has performed at Aarhus Vocal Festival, Malmö Arena, Hillerød Folk Festival and various folk festivals in Sweden, as well as museums and venues in Toronto, New York and Chicago.
Åkervinda has collaborated with the Swedish folk musician Jens Ulvsand, the Canadian fiddle virtuoso Jaron Freeman-Fox as well as the internationally renowned Swedish trio Nordic.
Lineup
Iris Bergcrantz – voice
Agnes Åhlund – voice
Linda Bergström – voice
Lise Kroner – voice
Date: Thursday 05 March 2020

Time: 7:30 pm

Location: Firth Court Western Bank Sheffield S10 2TN

Price: £14.50 / £11.50 / £6 £3 more on the door

Buy tickets