Will Pound's A Day Will Come – Cancelled
Thursday 13 May 2021 at 7:30 pm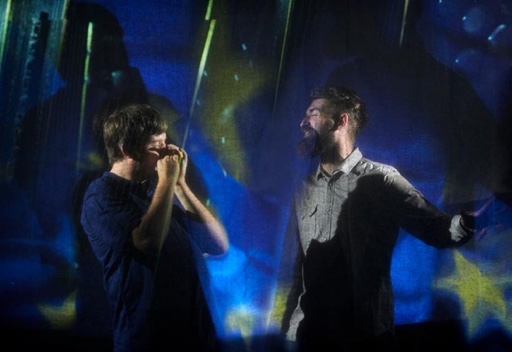 The concert scheduled for Thursday 14 May 2020 has unfortunately now been cancelled, refunds will be sent to all ticket holders.
We're thrilled to share this first track – Jautrais krodziņš"/ Maasland jig – from A Day Will Come, Will Pound's latest album released on Friday 8 May 2020. You can get your copy via Will's BandCamp.
The track is inspired by musicians from Latvia and Belgium. Will explains how the music came about, "I learnt this cracking first tune off a great box player called Oskars Patjanko who I was lucky enough to meet whilst out in Latvia on my research trip. You can find him playing it on YouTube – it's worth a watch! And the second tune I got from the brilliant Belgian band Trio Dhoore who I came across around two years ago when I played in a concert with them in England. It's a traditional Flemish tune. I hope you enjoy and do check out the rest of the album!"
Musicians: Jenn Butterworth, Jude Rees, John Parker, Will Pound, Patsy Reid.
Will shared his thoughts about how the A Day Will Come project came together…
"When I received the news that the funding had been awarded for this project, I was sat waiting for a plane to Japan having just played at Hong Kong Arts Festival. I think it was fair to say that I was fairly emotional as this is a subject close to my heart. I was also very daunted by the challenge of learning 27 tunes from all of the different EU member states, and how to make it work on a record.

How I approached this is similar to how I approached Through the Seasons, in that this is my take on the tunes that I have discovered and researched, whilst being inspired by the different musicians I worked with on this. One thing stood out for me: music crosses borders and everything is interlinked. When I was researching the tunes, I didn't want to go down the route of doing the obvious musical connections to each country. For example, the tunes from Cyprus and Greece do not sound like they should be from there, and I think it's important to highlight this.  I think this is something to savour and remember as the UK leaves the European Union.

The name of this album, 'A Day Will Come' is taken from a speech made by the French writer Victor Hugo in 1849, in which he spoke of a united Europe, and 'the disappearance of frontiers from maps and of prejudices from hearts'. This album is for all Europeans wherever you come from and whatever you believe in." Will x
---
Acclaimed harmonica and melodeon player Will Pound takes a musical journey across the states of the European Union to discover and unveil the diversity and common ground of traditional music and song. From the lively Swedish polska to the upbeat Italian tarantella, the lilt of the Irish jig, to buoyant French bourées, relentless rachenistas from Bulgaria and the rip-roaring Spanish jota, these tunes have travelled, evolved and merged as Europeans have enjoyed freedom of movement and expression: a shining example of the strength and joy in unity.
With Polish poet Bohdan Piasecki and a live band featuring Jenn Butterworth (Songs of Separation, Kinnaris Quintet), multi-instrumentalist Jude Rees (Jim Moray, RSC, Pilgrims Way), bass player and beatboxer John Parker (Nizlopi) and fiddle player Patsy Reid (Breabach).
An accompanying album featuring this new ensemble, alongside a host of guest musicians, will be released in May 2020.
Lineup
Will Pound – Harmonica and melodeon
Bohdan Piasecki – Poet
Jenn Butterworth – Guitar
Jude Rees – Multiple instruments
John Parker – Bass and beatbox
Patsy Reid – Fiddle
"A flat out genius…"
Mark Radcliffe, BBC Radio 2
Date: Thursday 13 May 2021

Time: 7:30 pm

Location: Firth Court Western Bank Sheffield S10 2TN

Duration: 1.5 hours + Interval

Price: £14.50 / £11.50 / £6

Buy tickets