David Greilsammer: Labyrinth
Thursday 20 February 2020 at 7:30 pm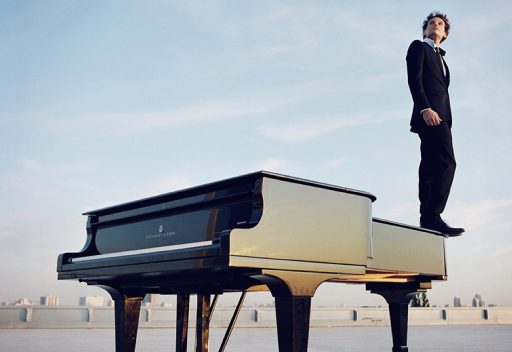 Acclaimed pianist David Greilsammer takes us on an imaginary musical voyage, to the heart of the human soul and dreams. The voyage he has created is inspired by the labyrinth found in Greek mythology, which symbolises audacity, inner search, transformation, and the possibility to experience unexpected encounters in life.
Fans of the evocative strain of new piano music, coming from labels such as Erased Tapes, will find this an exciting journey into the atmospheric origins and inspirations of artists like Nils Frahm.
With failing health Janácek poured his innermost thoughts into a unique piano masterpiece: his suite, 'On An Overgrown Path'. This suite forms the structure of Greilsammer's programme and intertwined with Janacek's extraordinary and imaginative music are a variety of mysterious pieces, acting like vistas revealing themselves along our journey.
Expressing an astonishingly abstract, almost impressionistic musical language, CPE Bach's fantasies, composed in the 18th century, seem to have been written well ahead of their time. While Mozart's unfinished Suite is one of the composer's most advanced, modern, and innovative works, revealing a new musical path, between past and future. Ofer Pelz's piece 'Repetition Blindness', was commissioned especially for this recital. Inspired by the various works by which it is surrounded on the programme, this tremendously virtuoso new work serves as a musical bridge between the various musical alleys of Greilsammer's labyrinth. Finally, at the centre of the recital, standing like an ancient tree in the middle of the labyrinth, is Rebel's enigmatic 'Chaos'. Composed in the Baroque era to depict the chaos generated by the world's creation, this adventurous piece presents a fierce, dissonant and wild musical language. Originally written for orchestra, this work has been arranged for the modern piano, specifically for this programme.
This concert will be performed under dimmed lights and David will return to the stage after the concert to offer insights into his work. Ticket holders are welcome to join him.
Programme
Janácek On the Overgrown Path No. 1
CPE Bach Fantasy in F sharp minor
Janácek On the Overgrown Path No. 2
Mozart Unfinished Suite Part I
Janácek On the Overgrown Path No. 3
Ofer Pelz Repetition Blindness' Part I
Rebel 'Chaos' (arrangement for piano)
Ofer Pelz Repetition Blindness' Part II
Janácek On the Overgrown Path No. 4
Mozart Unfinished Suite Part II
Janácek On the Overgrown Path No. 5
CPE Bach Fantasy in C minor
Janácek On the Overgrown Path No. 6
Lineup
David Greilsammer – Piano
"A brave, impactful programme."
-New York Music Daily
Date: Thursday 20 February 2020

Time: 7:30 pm

Location: Firth Court Western Bank Sheffield S10 2TN

Duration: 1 hour (no interval)

Price: £14.50 / £11.50 / £6 £3 more on the door

Buy tickets