16 March 2021
We have moved to a stream only season for Spring, so the following information is out of date. Please look at our streamed event preview here.
---
November 2020
For the time being the way in which we present concerts will be changing, to make sure we create a safe and enjoyable experience for everyone. Please read the following, and any further information sent with your tickets, to familiarise yourself with our procedures before you visit us.
Visiting our venues
For this season, concerts will be at The Octagon Centre. This means we can operate socially distanced events safely, it also gives us the time and space to make every concert look and sound incredible. The Octagon Centre is a Covid-Secure venue, and we have signed up to the Good To Go industry standard.
Prior to your visit
Do not attend a concert if you are supposed to be self-isolating or have any symptoms of Covid-19 – this includes a raised temperature, a new continuous cough, or a loss of taste or smell.
In the venue
When you arrive you will be shown to a seat. Please wear a mask at all times inside unless you are medically exempt. We ask that anyone who cannot wear a mask sends us an email ahead of time via concerts@sheffield.ac.uk to let us know. You will need to stay in your seat(s) during the performance unless you need to use the toilet. You must observe social distancing measures at all times.
For evening concerts doors open 30 minutes before the published start time. Unfortunately for the time being there will be no bar available at our concerts. Please feel free to bring your own non-alcoholic drinks or water.
Tickets
Tickets will only be available in advance and sales will end 24 hours before the event. For this season we will not be using the SU Box Office.
All seating in our venue is socially distanced to 2m, mostly arranged in pairs, but with limited capacity for larger groups. Any ticket(s) purchased as part of a single booking will be seated as one 'bubble' unless we are notified in advance by the booker. Please only book tickets in line with national and local guidance on social bubbles. At present Sheffield is in Tier 3 – so you may only attend and sit with people who are part of your support bubble or household.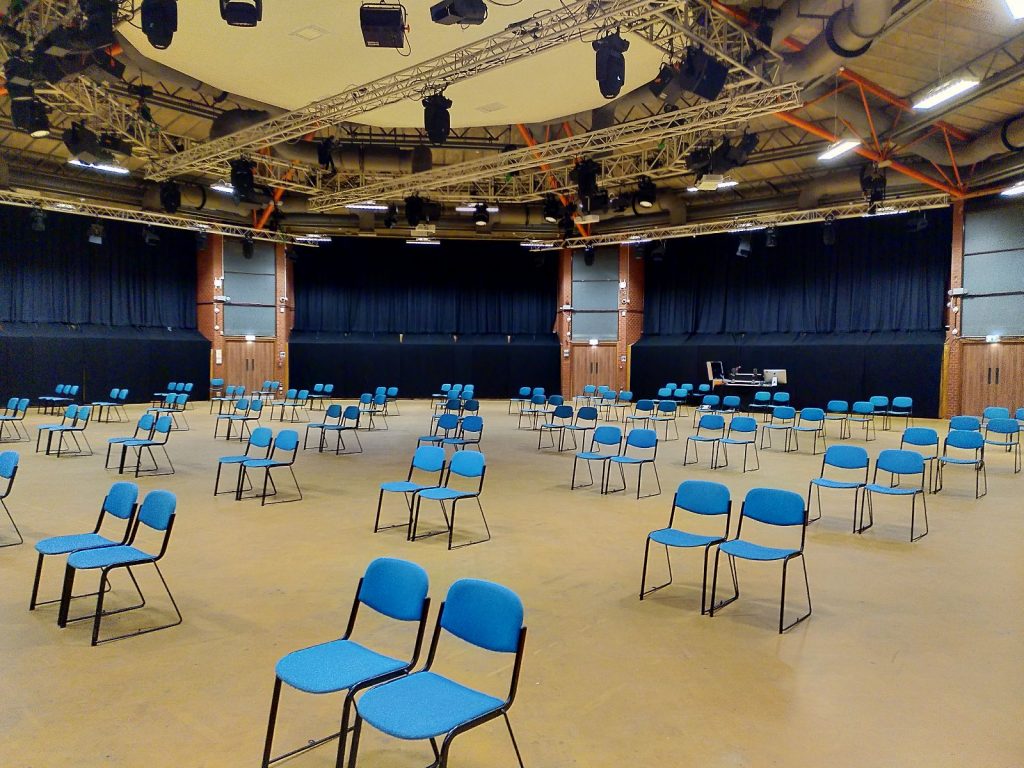 Ticket sales will be monitored to make sure there is enough space for everyone. Please get in contact if you have any questions.
Concession tickets are available to people with a disability, people in receipt of state benefits and senior citizens. Children who can sit on their parents' laps are free. University of Sheffield Alumni and Staff can get 10% off their tickets. Further information is available on the University's Alumni and Staff webpages.
We will continue to update our processes in line with national and local guidance to provide the safest and best concert experience possible during this current situation, and have plans in place to adapt any ticket bookings should guidance on social bubbles change.
Venue Address
Octagon Centre, Clarkson Street, Sheffield. S10 2TQ
Parking
Our nearest parking is at Q Park, Durham Road, Sheffield, S10 2JA.
Evening parking is only £3! Go to www.q-park.co.uk and enter Octagon Centre, Sheffield.
Refunds
We are currently able to offer full refunds for any tickets where you cannot attend the event, as long as we are contacted in advance. In any instance where concerts are cancelled a full refund will be offered (where possible we will aim to reschedule).
The Ticket Bank
University of Sheffield Concerts is thrilled to be offering free tickets via The Ticket Bank again this year.
Find out more about this brilliant initiative at www.theticketbank.org.
Access
Call us to request a copy of our access guide or to let us know about any special requirements, which we will be happy to accommodate.
General Enquiries
0114 222 0468
Buying Your Tickets
Online tickets do not have a service fee.
0333 666 3366
All phone bookings are via TicketSource and subject to a £1.75 service fee.
Further Information
You can read Perfomance Venues' further information on Covid Secure measures, including ventilation, here.
Further information on the University of Sheffield's current Coronavirus (COVID-19) guidance can be found on the main website. https://www.sheffield.ac.uk/coronavirus
The latest response from the Government on Coronavirus (COVID-19) can be found here: https://www.gov.uk/coronavirus